Hello Community,
Recently, our Slack group has enjoyed increased popularity and has grown to 58 members. However, with the growing number of members we have encountered a problem on Slack's side.
As you may know, Crypti has a paid Slack group which imposes a limit of 5 free-users for every paying member. We currently have 12 paying members, meaning we can only support up to 60 guests. So at the current growth rate we will very quickly reach our limit.
To resolve this limitation we have looked at various solutions. The first option was to create a new and free Slack channel, only supporting a total of 10,000 messages. This option however, would unwantedly restrict the amount of messages we can store, and furthermore, restrict users from accessing older (private) messages. The second option was to host the chat group ourselves. So we searched for a good alternative and quickly discovered the Slack clone Rocket.Chat.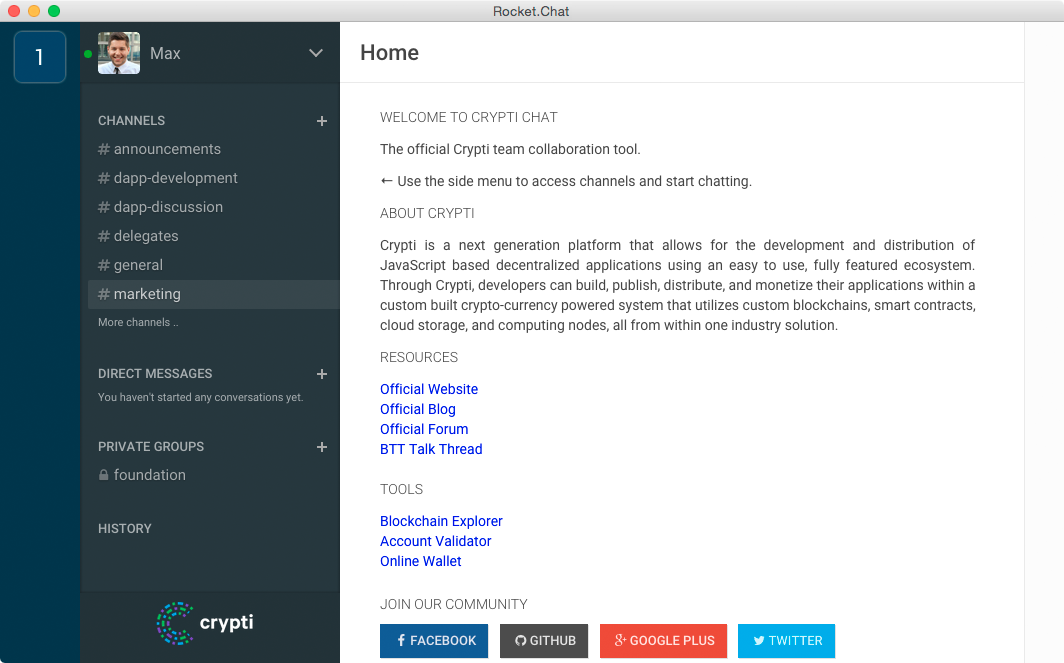 After conducting some tests we have found this to be the most suitable option. So have today decided to set up our own instance especially for Crypti at: Crypti.Chat.
Now everyone will have access to a greater number of public channels, such as: delegates, marketing, dapp-discussion or dapp-development. Hopefully allowing us to work more closely together as a community and encourage more people to get involved with Crypti.
The transition to the new chat group will take place today, with the existing Slack channel closing at the end of this week. So please save any important messages and switch to Crypti.Chat as soon as possible.
You can login with your Facebook, Twitter, Google or GitHub account, or create a new account using your email address.
Thank you,
The Crypti Foundation