In a world in which the desktop PC gets less significant every day, it's very important to have a mobile solution. With it you can have your most important things at your side every day, everywhere.
Crypti is one of those important things. Having your money and dapps right in your pocket is an unbelieveable convenient thing. As the Crypti universe will grow rapidly once the dapps are here, we have to assure an easy access to your Crypti account before the Dapp Store arrives.
Therefore we introduce the mobile Crypti client. The app version will be available for iOS and Android, however you will be able to enter the web version from any smartphone or tablet. The mobile client will have every function like the real one, compressed into one nice package.
Why should I have it on my mobile device?
Soon after the release of the Dapp Store we will publish our very own decentralized applications, which will make the Crypti client even more powerful. Some of them are just screaming for mobile use. Below I listed two exciting examples, keep in mind we have many more great ideas we don't want to disclose yet.
We want to Keep the main blockchain of Crypti as small and lean as possible therefore we decided to integrate these two features in sidechains (i.e. custom blockchains). Just a messaging service wouldn't be big. But at Crypti you will have a decentralized network, combined with encrypted (optional!) messages. Alongside with convenient features like 10s block time, avatars and usernames it will be a nice asset to have. All this in your pocket with the mobile Crypti client.
Other ideas can include mobile payment solutions, mobile games or variations of Uber or Airbnb - all decentralized! We hope the community can deliver great things. We are looking forward to it!
How does it look?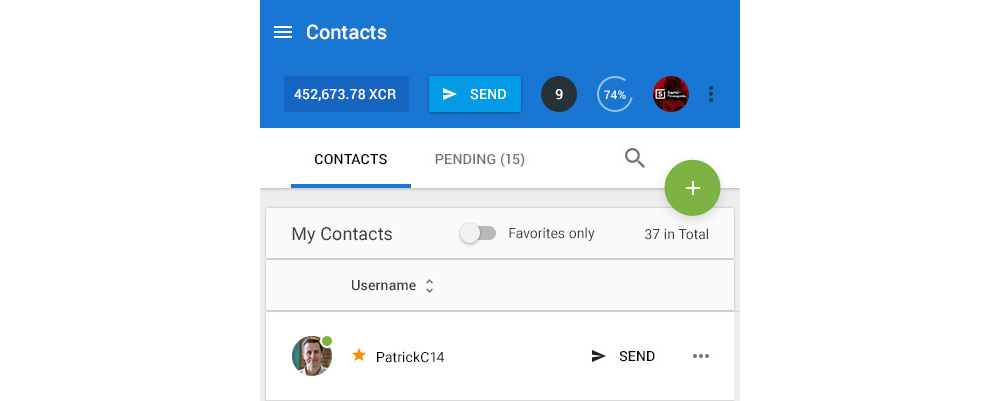 What comes next?
That was it again this week. We are hard working, making our vision reality. This weekly blog post is a little bit shorter than the ones in the past weeks, therefore I want to tell you a bit more about the near future of Crypti.
Right now we are at v0.2.0a of the Crypti client, with the release of the new desktop user interface we will be at v0.3.0. We had to move our deadline a bit, we will release it probably early June. We as a team want to integrate the Crypti community in this release and that's why we will make a public beta test starting next week. We will prepare some bounties for this occasion, so be prepared to test it well.
After we released v0.3.0 we will continue with the multi signature feature in v0.3.1. After that comes the mobile user interface in v0.3.2. We might add a few features after that like the Settings or Network pages. However, then we will unleash the beast, the Dapp Store in v0.4.0.
Thank you very much for reading our weekly Crypti issue. See you next week!